Custom Aussie Rules Uniforms & Team Apparel
Our 3D custom designer is now live, where you can bring together all your ideas for Australian Rules football guernseys. You can test different preset designs, change all the colors, add your logos, custom names if needed and a whole lot more.

We offer Australian Rules custom guernseys in both 280gsm and 175gsm in 100% polyester spandex material. This makes them very durable and super comfortable to wear. The slightly lighter weight material is great for metro teams or training tops. We can also produce both materials in tank tops, in standard mens cut or the ladies razor back style, all great for the summer time of the year when we are practicing or out and about socially.

Thats not all, we also will have custom polo shirts and fleece hoodies available to design and order.

So you already have a previous design we can work with that too, modify it if needed and give you a quote in just a few days. Importantly our expected production turnaround time after you place your order is just 14 to 21 days. So your team can look great in less than a month instead of two or three.

Importantly also, buying from us ensures your purchase helps Australian Rules Football grow in the USA. As a sponsor of the USAFL and grass roots footy development across the country since we began, we continue to assist the sports success through this business and your loyalty. Whether you buy a Sherrin football from us, AFL merchandise or custom apparel, be assured your purchase is helping the sport grow here in the USA.

Thanks, Wayne Kraska (Krazz) - Owner
Email: wayne@playaussie.com
Custom Aussie Rules Football Guernseys
Fully Customizable in 3D
Fast Lead Time 14-21 days
280gsm Polyester Spandex
Custom Names & Numbers
Lighter 175 gsm Available
Women's Cut Available
Reversible Guernseys Available
Long Sleeve Available
Custom Aussie Rules Football Shorts
Fully Customizable in 3D
Fast Lead Time 14-21 days
280gsm Polyester Spandex
Customize With Your Logos
Draw String & Elastic Waist
Extremely Durable
Roomier Baggy Fit
Sizes Up To 3XL
Custom Aussie Rules Football Socks
Fully Customizable in 3D
Fast Lead Time 14-21 days
Multiple Types Available
Made in the USA
Knitted 100% Acrylic
Low Minimum Order
Several Size Options
Custom Logos Available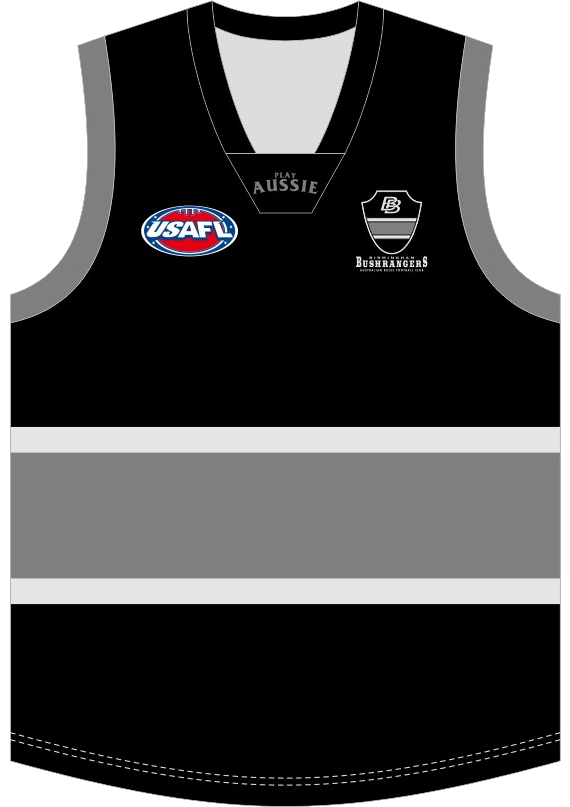 Joel - Birmingham Bushrangers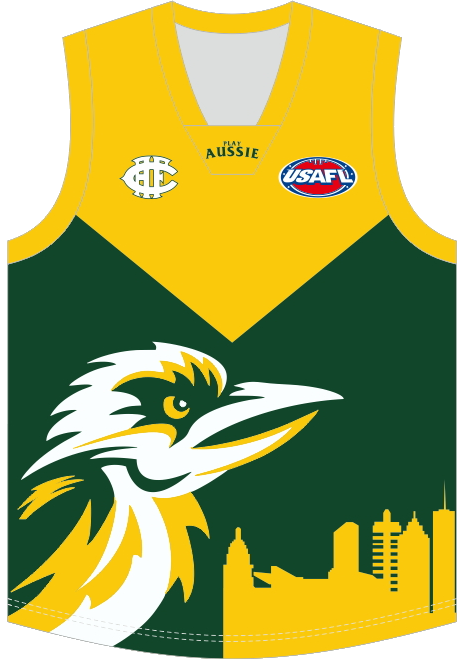 Ryan - Atlanta Kookaburras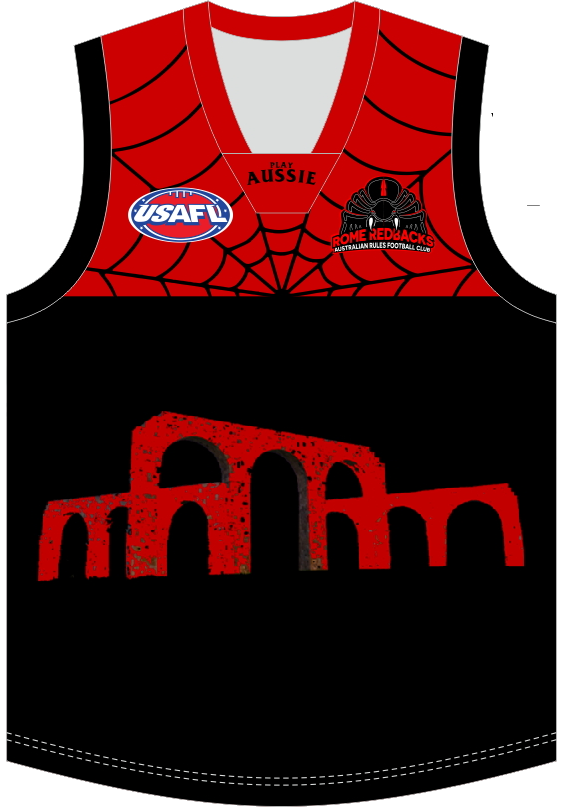 Hey we know, we are new and you might want to see a sample of our uniforms first, before ordering? That is certainly a good business decision which we are happy to help with. It also a way to test the sizes as these guernseys fit true to USA sizes so slightly bigger than regular Aussie Rules uniforms you might have got in the past.
We have samples of our Men's guernseys, shorts, polos and training tops ready to send out. There is no cost for this service, you simply ask and we send and we include a return shipping label as well, so you can send them back when you are done and we can pass them on to the next team.
Email us at
wayne@playaussie.com
and lets get some on the way.
Aussie Rules Apparel Size Charts