Sherrin Face Footys -Super Soft Touch - Size 1
FaceFootys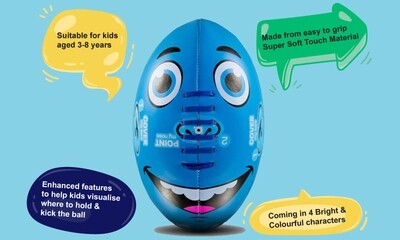 Kids Footballs
Price :
38.95
USD
In stock
Play Aussie USA is excited to offer USA kids four fun, colorful characters Aussie Rules Face Footys. Made to get young kids excited about playing footy and to make it easier for coaching future stars of the game they were developed in partnership with AFL Superstar and Adelaide Captain, Rory Sloane, and ex-AFL Superstar James Podsiadly. Face Footys makes kicking simple and enjoyable.

These balls are Size 1 for ages 3-8 years and already gift boxed. They make a great present.

Face Footys by Sherrin are the newest way for children to learn how to kick and have fun playing footy! Just cover the ears, point the nose and kick the chin - it's skill development made easy.
Rocket - Orange
Kicks the ball to the moon and is a bundle of energy, sometimes gets carried away but is always a favorite with team mates
Dukes - Green
Reliable and never fumbles, cool, calm and collected, never gets too excited
Skipper - Pink
The team leader that calls the shots. Does everything for the team and the leader we all love
Radar - Blue
Never misses, always hits a target. Very reliable and disciplined. Loves data and analysis.

Stock is very limited on these right now as they sell out in Australia each time they come in. Thankfully we were able to secure a few of each, but not many. So if they are listed as in stock I would not wait honestly.
- Size 1 only - For ages 3-8 years
- Padded Super Soft Touch material
- Recommended for play on grass
- Available in 4 colors